SEND
THE
LIFT
BACK
DOWN


Laura James explores the ways in which women are mentoring and supporting other female colleagues into positions of leadership
At a time when feminism is once again high on the agenda is there a responsibility among those who have broken through the glass ceiling to 'send the lift back down', and help more female colleagues to follow them into the highest positions in business and leadership? When a woman successfully negotiates obstacles that have prevented such success, she often takes on the role of mentor, supporter, sponsor or role model, either informally or, increasingly, as part of a corporate programme. But how does it work best, and what are the commercial benefits of such systems?
Clare Glackin, Head of the Industrial Practice at Odgers Berndtson in London, believes women are well placed to introduce systems and a culture that favour woman-to-woman mentoring and inspiration. "I think at the heart of it," she says, "female leaders are showing quite how successful they are. They naturally create collaborative, solutions-focused cultures where other women can be successful." Programmes such as InspiringFifty give women leaders the opportunity to 'pay it forward', this time in the tech industry.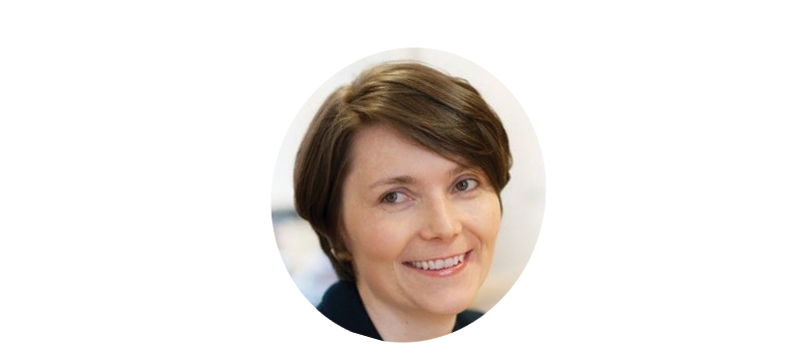 CLARE GLACKIN
---
HEAD OF THE INDUSTRIAL PRACTICE AT ODGERS BERNDTSON UK
Established by Janneke Niessen and Joelle Frijters, joint founders and CIO and CEO respectively of Improve Digital, they work according to the premise that 'if she can see it, she can be it'.
The initiative publishes a list of 50 inspiring women in tech in each country in which it operates. The aim is to provide a record of accessible and visible role models for women and girls who are considering entering or just want to know more about the STEM industries. Kate Stevenson, a Director of the Canadian Imperial Bank of Commerce and this year voted one of that country's 100 most powerful women, has 25 years' experience as a senior financial executive in Canada and the United States. She has often ridden an elevator sent down by a female co-worker.
She says: "I have had some great mentors and role models over the years. I have served on corporate boards over the past dozen years and I would have to call out one individual in particular, Jalynn Bennett. She was my first taste of the old girls' network at play. She was a new director and I was in management. She was quietly brilliant. She worked her magic with utmost discretion. She was respected by her fellow directors and loved by the staff at her board companies as well.
"I was also inspired by her dedication to supporting women. She advised hundreds of us and a few men too, all while serving on some of the most prominent boards in the country, not to mention juggling duties for her family, friends, and community. How was this possible? Boundless energy, a deep passion, and a light touch – a little hint here, introduction there, or insight that in a flash gave perspective." For Stevenson, this illustrates the power of the one to influence another. "It is a lesson to me," she says, "of the power, or I might say magic, that one person can have. I still occasionally wonder what Jalynn might say to me on this or that.
"And we all have that power. We cast longer shadows – or can give more light – than we may appreciate". "There is no one path that's right for all! Every one of our careers is a labyrinth, not a ladder. And the advice out there for women has been overwhelming. We have been told to act a certain way, speak in a certain voice, and even dress in a certain style! When I began my career on Wall Street, we even dressed like men, in dark suits (and I hate to admit, I even sometimes wore a little bow tie!).
Colleen Johnston recently retired from her position as Group Head, Direct Channels, Technology, Marketing and Corporate Affairs at TD Bank Group Canada. She's currently taking up non-executive board positions. She believes attitudes – and systems – are changing. She says: "For 10 years at TD bank I was the Chair of the Women in Leadership initiative. That was about not only putting together a team to look at systemic issues, but more importantly to focus on whether we were encouraging women to really believe in themselves, be confident in their future and not to define themselves as women in business but as a person.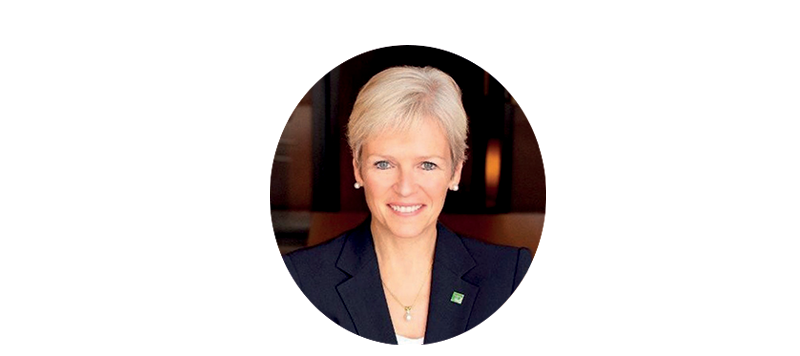 COLLEEN JOHNSTON
---
"Where women can play a role for other women is to engage in a positive discussion of what the future holds."
"Good sponsorship is me saying 'I think very highly of Mary and I think Mary would be really good here'. In doing that I'm putting my reputation out there and my brand behind that person because I believe in them and that goes a long, long way."
Equally, Johnston believes that, over recent years, more groups of women are getting together to be mutually supportive and encouraging. "Where women can play a role for other women is to engage in a positive discussion of what the future holds."
At Odgers Berndtson in London, Clare Glackin believes such leadership roles come naturally to women, assuming that the right corporate culture is in place. "With gender removed from the equation," she says, "successful leaders are able to create diversity and actually lead in a way that comes quite naturally to women.
Often they're not the most high-profile of leaders. Often they're more low-key. They're people who are tremendously successful but don't take the glory. "That type of leadership is coming to the front and that makes it easier for women because that tends to be their focus: on collaboration and inclusion."
Sending the lift back down is as much, she adds, about "a company culture that values investing in people. This needs to come from the top and the focus needs to be on the longterm benefit to the organisation rather than the ego and personal financial gain of the leader. "That's what sends the lift back down for everybody. It's not necessarily about individual women sending individual lifts back down – it's about the culture of a company."