GENDER EQUALITY
IS GOOD FOR

E

VERYONE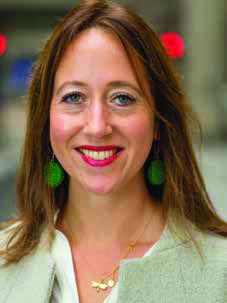 PROFESSOR ROSIE CAMPBELL
Director of the Global Institute for Women's Leadership and Professor of Politics at King's College London
At the Global Institute for Women's Leadership we understand that transformational change in the pursuit of gender equality in the workplace will bring benefits to men as well as women.
Efforts to promote women that fail to take account of employees' multiple identities can only take us so far. Many organisations have seen the progress of women into leadership positions flatline or even fall back after initial
improvements.
The research base suggests that the failure to eradicate barriers to women's progress, despite decades of investment and innovation,
are at least in part explained by the unintended consequences of some diversity initiatives.
An emphasis on diversity instead of inclusion can create an environment where members of majority groups in organisations can feel that their opportunities to progress are being narrowed and can lead to a backlash and a negative working culture.
The promotion of flexible working is one of the most important tools an organisation can employ to improve the recruitment, retention and promotion of women, but to be effective it must be extended as an option for everyone.
"Many organisations have seen the progress of women into leadership positions flatline or even fall back after initial improvements."
---
Where flexible working is framed as an option only for parents, usually women, it can have the effect of creating a two tier
culture or a 'mummy track' where more women remain in employment after having children, but fail to progress to senior positions.
The alternative inclusive approach of offering flexible working to all brings multiple benefits to organisations in the form of greater loyalty and retention of staff and a healthier, happier and more productive workforce, alongside an increased supply of talent and a more cooperative organisational culture.
The language we use to discuss flexibility has changed to acknowledge that a happy and productive workforce must balance the demands of employment with the other business, of being alive. We rarely hear the term work/family balance in contemporary debate and instead work/life reconciliation is the common parlance.
This is progress, but of course work is still life, in fact the majority of our adult waking lives, and all employees perform better in the workplace if they are not suffering from disabling work stress or work/life balance conflict. This is true of all human beings, no matter where they are situated in the organisational hierarchy.
A recent article in the Harvard Business Review emphasised the benefits to organisations of CEOs carving out time for family, hobbies and sleep.Family is of course a significant part of the balancing act for many of us at different stages of our lives, whether we have caring demands for young children or older relatives.
Professional men are increasingly more involved in caring for loved ones, as norms about what a good father looks like change and family structures shift to include more single parents, blended families and same-sex parents. But, beyond the demands of family, finding time for other interests and pursuits and of course sleep are essential to enhancing creativity and wellbeing.
As our economies change in response to the fourth industrial revolution, creativity will continue to be of increasing importance.
Acknowledging and supporting the physical and mental health needs of 21st century workforces requires us all to think about how the blending of work and private life can be managed in a way that is not damaging to our health and productivity.
Recognising, respecting and accommodating employees' commitments outside of the workplace will go a long way to addressing these issues. Responding to the desire of many employers for flexibility, with responsibility, will allow organisations to recruit and retain not just more talented women but millennial men.
An inspiring example of an inclusion approach with the potential to radically improve the working environment, job satisfaction and productivity is 'Be You at BUPA'.
BE YOU AT BUPA
NAOMI ATTWOOD
PEOPLE DIRECTOR CENTRE, TALENT & LEADERSHIP BUPA
---
Instead of focusing on diversity or the differences between employees, Bupa's People Team puts the emphasis on inclusion as a means to foster a culture of openness, support and treating all people well. Bupa encourages avenues of communication for people with common needs who may want to share and learn from each other. These are organic networks supported by the People Team.
In 2018 Bupa launched 'Be You At Bupa,' pledging Bupa's commitment to promoting and celebrating diversity and inclusion, encouraging everyone to bring their true selves to work. Flexibility is something we believe is critical to the initiative; flexibility has a direct impact on attracting a broader range of people to Bupa. Many environments that are considered inherently inflexible can be made to flex with a little creativity.
Naomi has prior experience leading call centres, which can be notoriously inflexible working environments but she believes changes can be made whilst meeting business and customer needs. As an example, in one centre Naomi managed, shift management was handed over to the employees, all the various shifts were available on the wall of the call centre and colleagues could swap shifts amongst themselves. As long as the hours were adequately covered, and people were adequately trained, it didn't matter who was on each shift.
A key element of Bupa's employee health and wellbeing programme is Performance Energy, a resilience-building initiative to help people manage everyday pressures. Understanding and respecting colleagues' nonnegotiables is essential for performance energy at Bupa. The practice of openly sharing non-negotiables within our teams, understanding who has to be where, when and why, so people can manage their time 'guilt-free' to fit everything in gives colleagues energy so they can be at their best at work. One of my non-negotiables is having breakfast and dinner with my family daily with flexibility to swap for an extra school pickup when there are essential early or late meetings.
Another colleague coaches a basketball team, and his non-negotiable is coaching nights, nothing can get in the way, we all know it, and we know where to get help if he is at coaching. Other examples are yoga classes, running at lunch time, school drops etc … the beauty is in sharing them, and participating guilt-free instead of feeling you have to skulk out the door to attend. We all have them for all sorts of reasons and we all check in to make sure we are achieving our non-negotiables … and we all work hard around them so our customers and stakeholders aren't impacted. It's one of my favourite things about working at Bupa.
BE YOU
AT BUPA